Hakohana can indeed
make your dreams come true
Bringing to life a special wedding for the two of you, catered to your specific needs
Whether it's your desire to communicate your gratitude to your beloved family, or your hopes of spending these cherished
moments with your dearest guests to your heart's content ...
First, let us hear what the two of you wish for most.
Each and every member of our staff are ready to submit the most sincere plans and support to make your "wishes" come true.
Let's not worry about being bound to customs or traditions, and instead let's find a way to provide you with a wedding that's
perfect for the two of you, and one that will always remain in your hearts.





Hakohana's Services
Feel free to ask anything of our well-experienced staff
Are you wondering, how can I prepare for my wedding, and what do I need to arrange? Or have you thought, on the day of my wedding, I'd like to get ready at home, and show grandpa and grandma how pretty I look ...
If you have any concerns such as these, please feel free to consult with us.
Our staff have extensive backgrounds in hotel and wedding venue services, and are well-equipped to provide you with thorough and careful support.
And we can also arrange for accommodations and transportation for the two of you, as well as your family and friends. We are happy to work within whatever budgetary restrictions and conditions you may have, and can refer you to the appropriate services as well that best fit your needs, free of charge.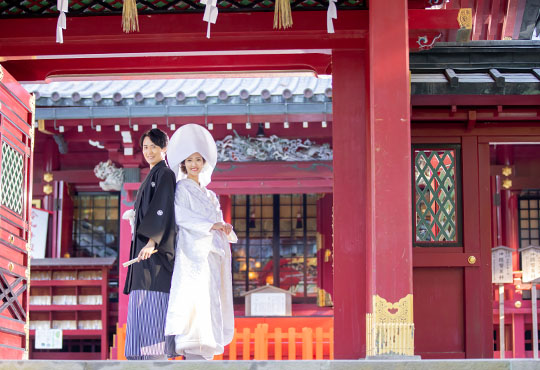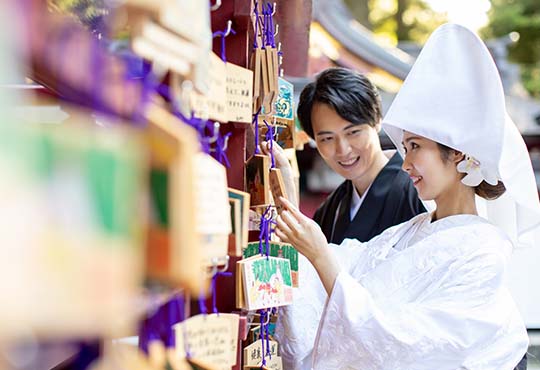 Hakohana's Dedication
We dedicated ourselves to providing a wedding
that only Hakone Shrine could deliver
"Hakohana" is a salon service which produces weddings exclusively at Hakone Shrine. Our photographers and beauticians are all dedicated exclusively to the pursuit of staging a wonderful wedding at Hakone Shrine for the two of you, and to bring you the greatest joy.
With our extensive track record of putting together many weddings at Hakone Shrine, and with the information gathered from numerous customers, we are continuously looking to evolve our wedding ceremonies at Hakone Shrine.
Hakohana's Wardrobe
Prepared to make you shine brilliantly and beautifully,
on this most precious and important day
We understand your most cherished wishes for a wedding at Hakone Shrine, and we will provide the most sincere and delicate care and support for the two of you, which extends to our choices of wardrobe and bouquets, as well as hair and makeup for the bride, and helpful advice.
We operate a wardrobe service at Odawara Station called "Coco Wa" (scheduled to open in January of 2023), where we have all-white kimonos and colorful kimonos for the bride, as well as formal black kimonos and morning coats for the parents, available for rent. Please feel free to consult with us anytime.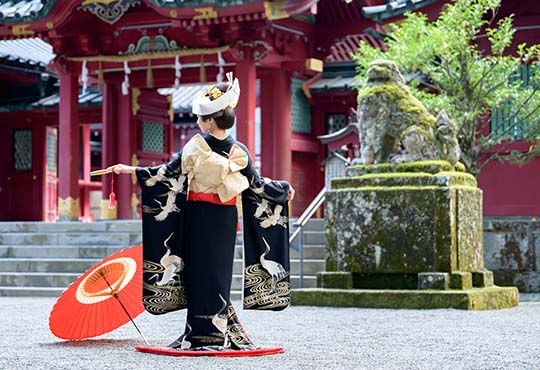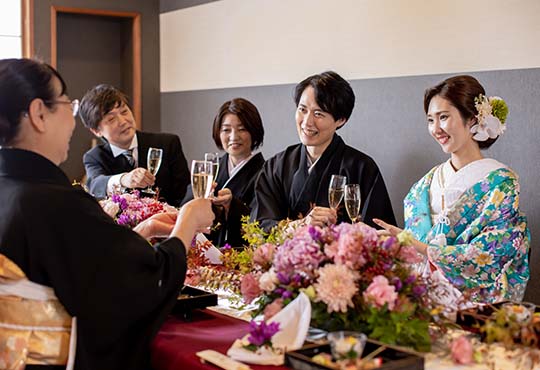 Hakohana's Productions
We will handle everything, including the wedding reception
We will handle proceedings for the banquet/reception following the wedding, and we can arrange, if necessary, a master of ceremonies, music and sound systems, as well as parting gifts, etc., to fit whatever requests the two of you may have. We have associations with traditional ryokans (inns) and famous hotels in Hakone, so we can arrange for accommodations according to your needs.
We will produce a wedding that fits perfectly with your hope and wishes.
The allure of Hakone Shrine
Hakone Shrine (Kuzuryu Shrine) has, since ancient times, been a center of mountain worship in the Kanto region, and is a place
of worship in Motohakone where many people of faith have come to gather.
This shrine has a history of over 1,260 years, and has been visited by members of the Imperial House of Japan. It is also currently
famous as a power spot with supposed powers of matchmaking.

What kind of place is Hakone Shrine?
Hakone Shrine is said to have been founded in 757 (the inaugural year of the Tenpyo-hoji era), by the monk Mangan Shonin, who built a shrine upon the lands now known as Hakone, and enshrined the diety Hakone Ōkami there. In the past, famous warriors such as Minamoto no Yoritomo and Tokugawa Ieyasu have pilgrimaged there to pray for victories in battle, and the shrine grew prosperous. In modern times, with the building of the Tokaido route, it flourished as a place of worship for the general public, who prayed there for traffic safety, and it became widely familiar and popular. There are several ways to get to the inner shrine. There is the main route by climbing the 90 steps; there is the side route that takes a gentle slope without stairs; and there is the treasure hall route, with access to an elevator for visitors in wheelchairs. Please select a route that is appropriate to your physical abilities and health.
The grounds, with the inner shrine at its center, are dotted with several shrines, such as the Kuzuryu Shrine Shingu. The Kuzuryu Shrine Shingu, the Yatate Cedar, and the Baby Wishing Tree are particularly popular destinations.
The divine virtues of Hakone Shrine
The three primary kami (gods) enshrined at Hakone Shrine are Ninigi-no-Mikoto, Konohanasakuya-hime, and Hoori-no-Mikoto, who are collectively known as the Hakone Ōkami. These three kami are famous gods who have appeared in Japanese myths. They have various divine virtues, such as bringing good fortune and warding off evil, answering one's most earnest prayers, traffic safety, and serving as guardians of luck.
How to enjoy Hakone Shrine
There are several ways to enjoy your visit to Hakone Shrine. Here, we introduce some of those ways.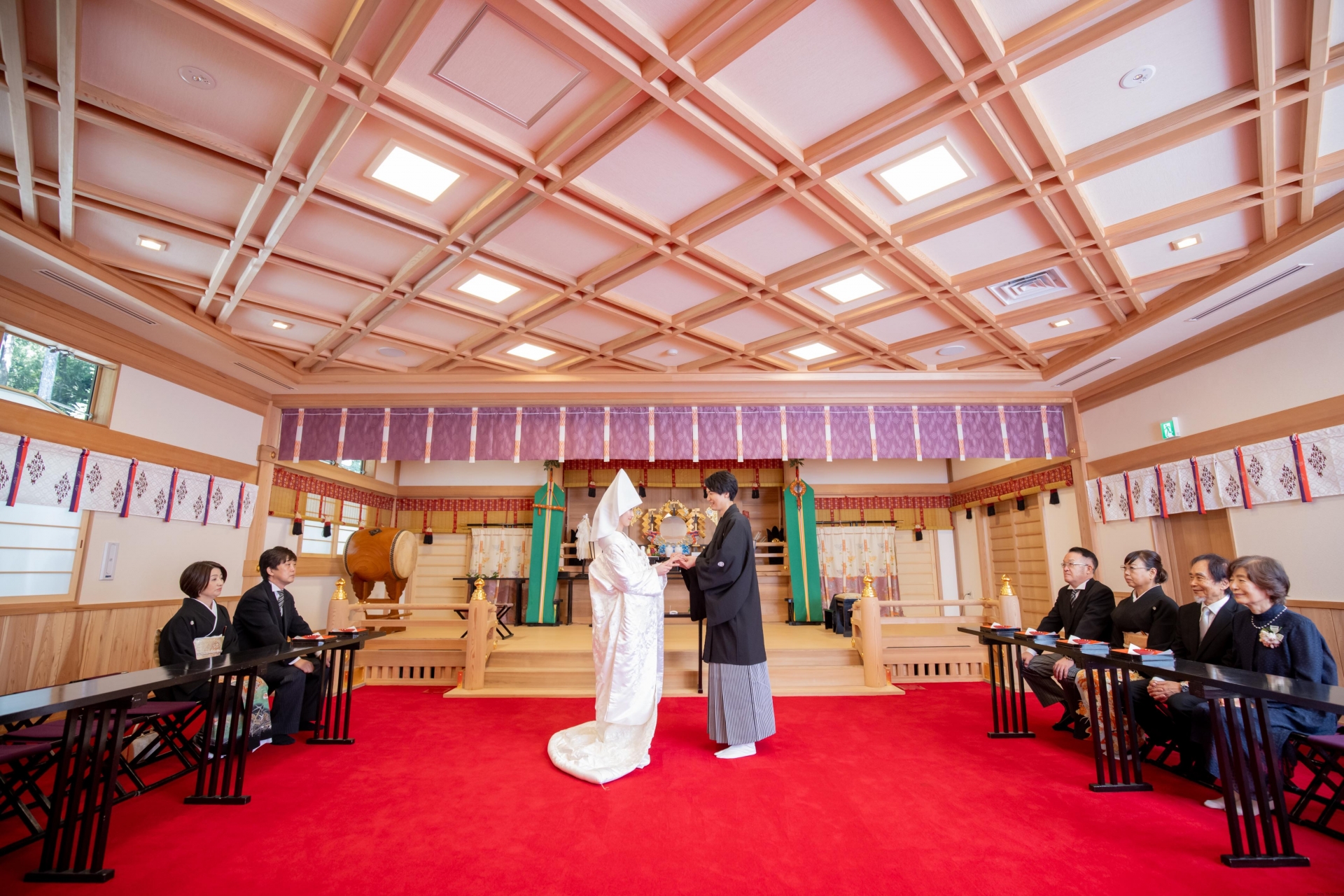 Ceremony hall/Wedding venue
The newly built wedding venue was built using cedar wood grown within the compounds of the shrine—the same lumber used for the shrines and their interiors. Maximum capacity: 34 persons (including the bride and groom);
Time allotted for wedding ceremony: approximately 30 minutes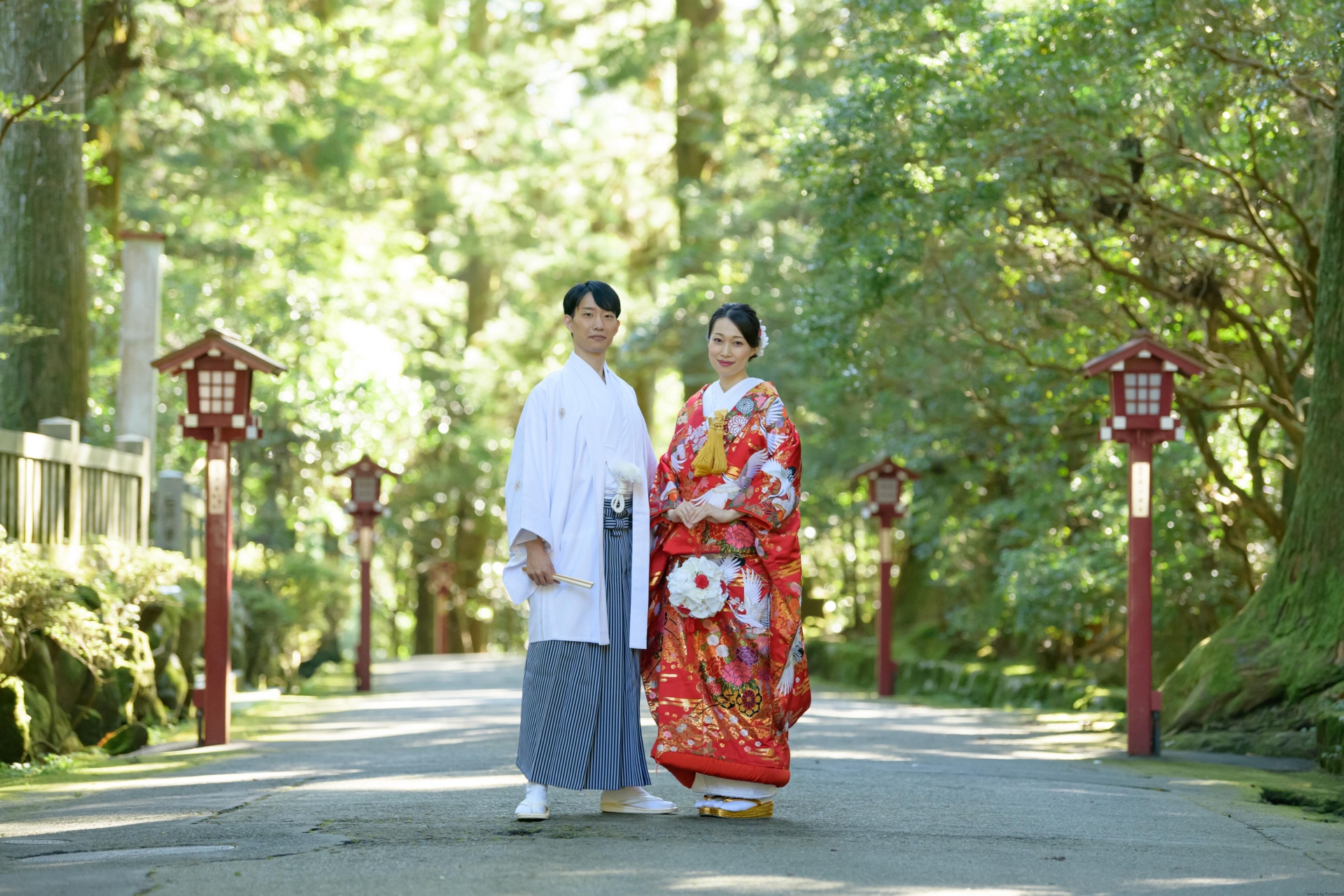 Lining both sides of the paths which lead to the inner shrine are ancient cedar trees which are over 600 years old, lending an air of stoic calm to the area.
Near the Fourth Torii gate you will see a massive cedar tree called the Yatate Cedar, its trunk wrapped in a sacred Shinto straw festoon. It is said that long ago, when the shogun Sakanoue no Tamuramaro set out on an expedition to quell the Northeast by Imperial command, he left an arrow as an offering in front of a cedar tree at Hakone Shrine. When his prayers for victory were answered, in subsequent years other legendary generals left arrows as offerings as well during their pilgrimages.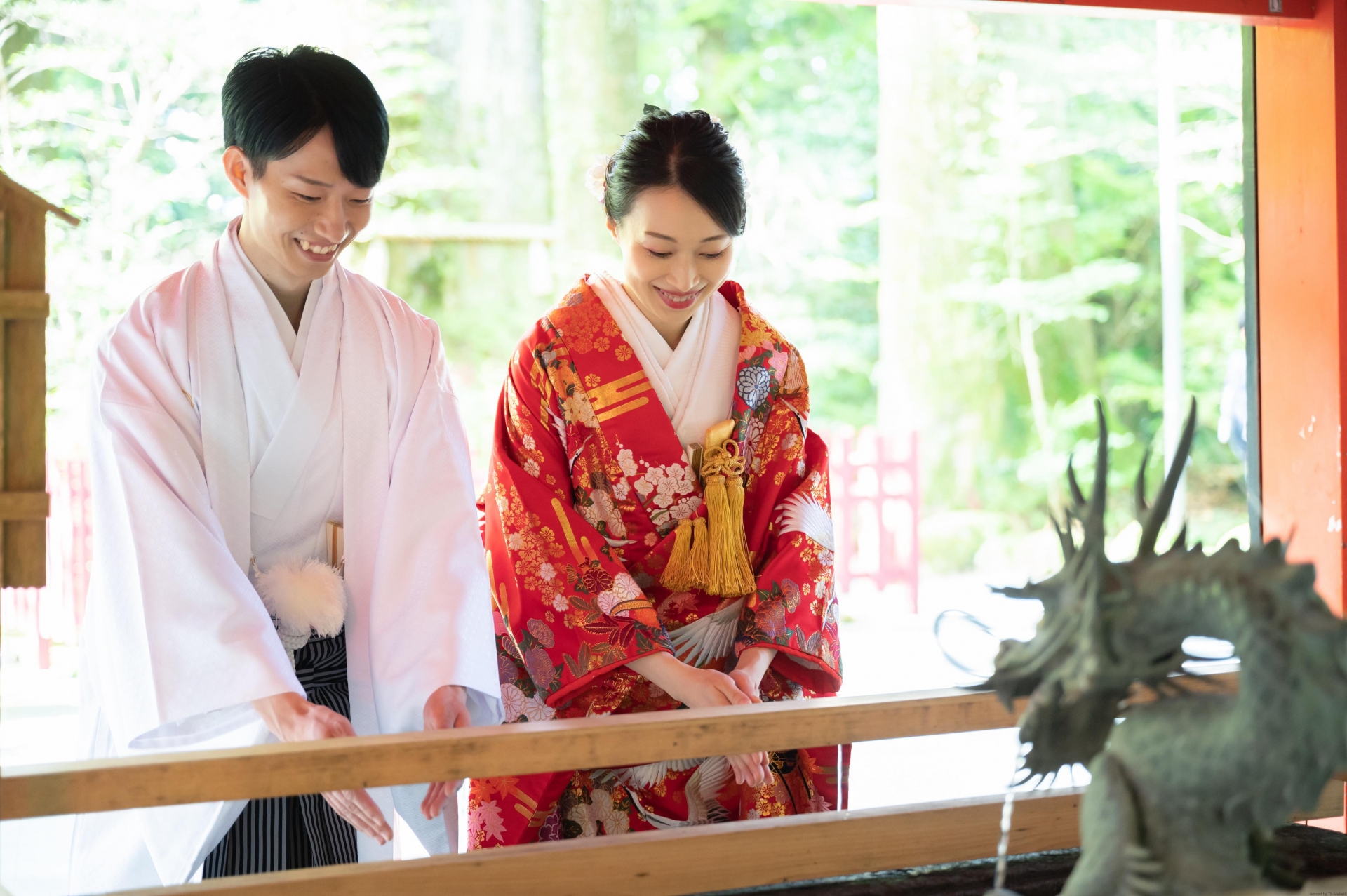 The temizuya, a Shinto water ablution pavilion for ceremonial purification, is located next to the Fourth Torii gate, in front of the main shrine path which leads to the stone stairway, at Hakone Shrine. It is a Shinto custom to purify one's hands and mouth before entering a sacred place. On the shrine grounds is a pavilion called the temizuya, where water and hishaku (dipping ladles) are prepared.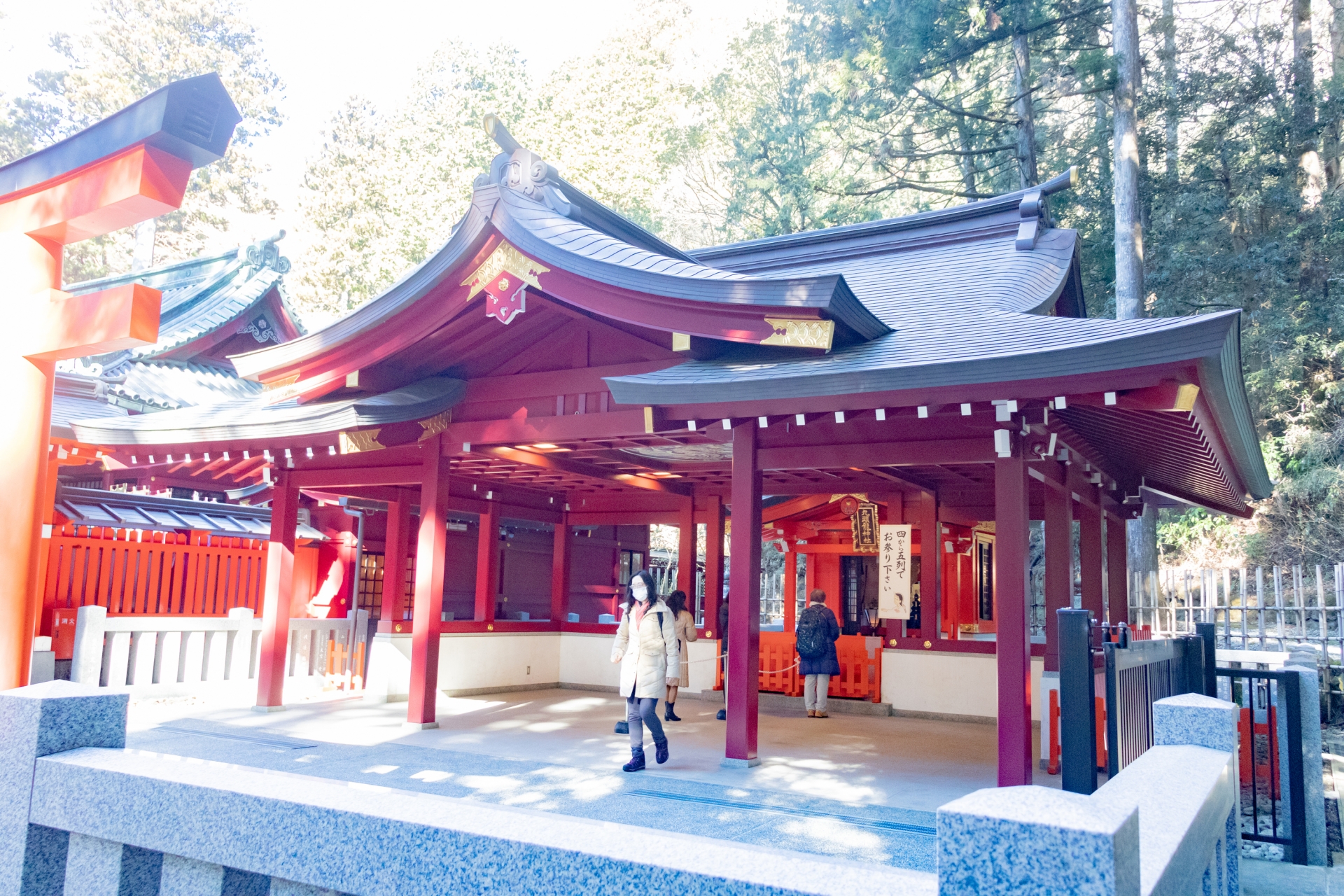 This shrine is related to the legend of the Kuzuryu dragon of Lake Ashinoko. In ancient times, a nine-headed dragon menaced Lake Ashinoko, and caused harm to the people in the area. It was said that when the monk Mangan, who had been entrusted as the guardian of the Hakone Ōkami, went to offer prayers, the dragon repented its ways and returned to the divine path, thus paving the way for it to be enshrined. Stemming from this myth, a strong relationship was forged with the Hakone Ōkami (enshrined at Hakone Shrine), and so, in 2000, this Kuzuryu Shrine Shingu was built on the grounds of Hakone Shrine.
In recent years, this shrine has become a popular power spot for women because of its supposed matchmaking energies. In addition, it has gained notice as a popular destination for other divine benefits, such as the power to grant economic fortune, and prosperity for businesses.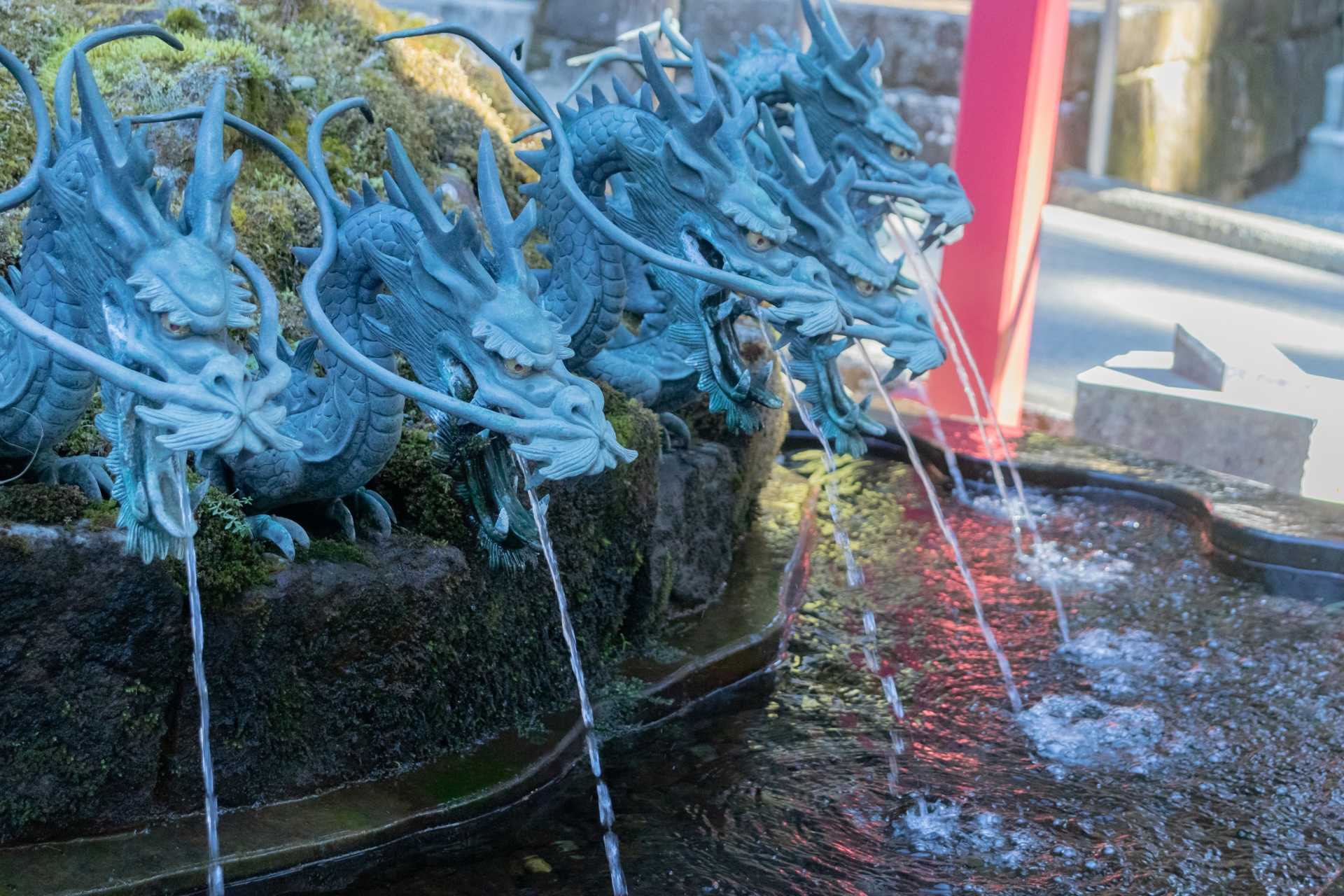 When you get to the bottom of the steps of the Kuzuryu Shrine Shingu at Hakone Shrine, there you will see nine dragons lined up in a row. The waters spouting from the dragons' mouths are a natural spring that flows from underneath the grounds, called "ryujinsui (literally, 'dragon water')." It is said that when you drink this water, you are cleansed of impurities, and your fortunes will improve.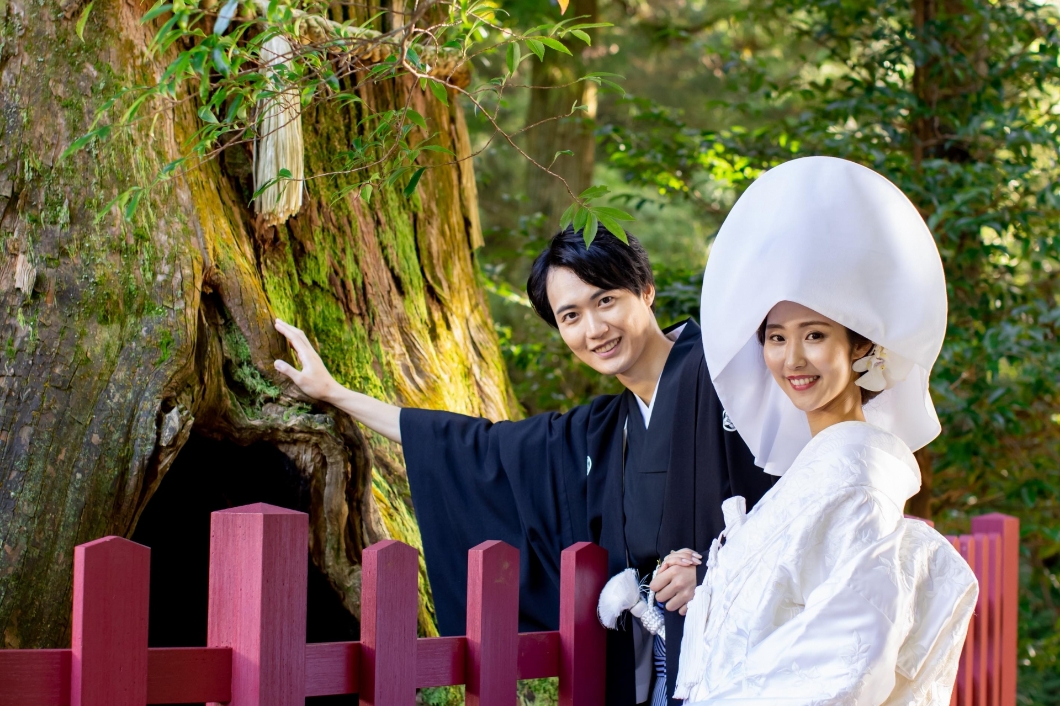 This massive cedar tree, located near the inner shrine, is belovedly known as the Baby Wishing Tree. Legend has it that the enshrined kami Ninigi-no-Mikoto and Konohanasakuya-hime were married, and gave birth to a healthy child, named Hikohohodemi, and this then became a lucky tree.
Said to have the divine virtues of bestowing a prosperous number of descendants, and safe births, this place gained notice as a power spot, visited by many people.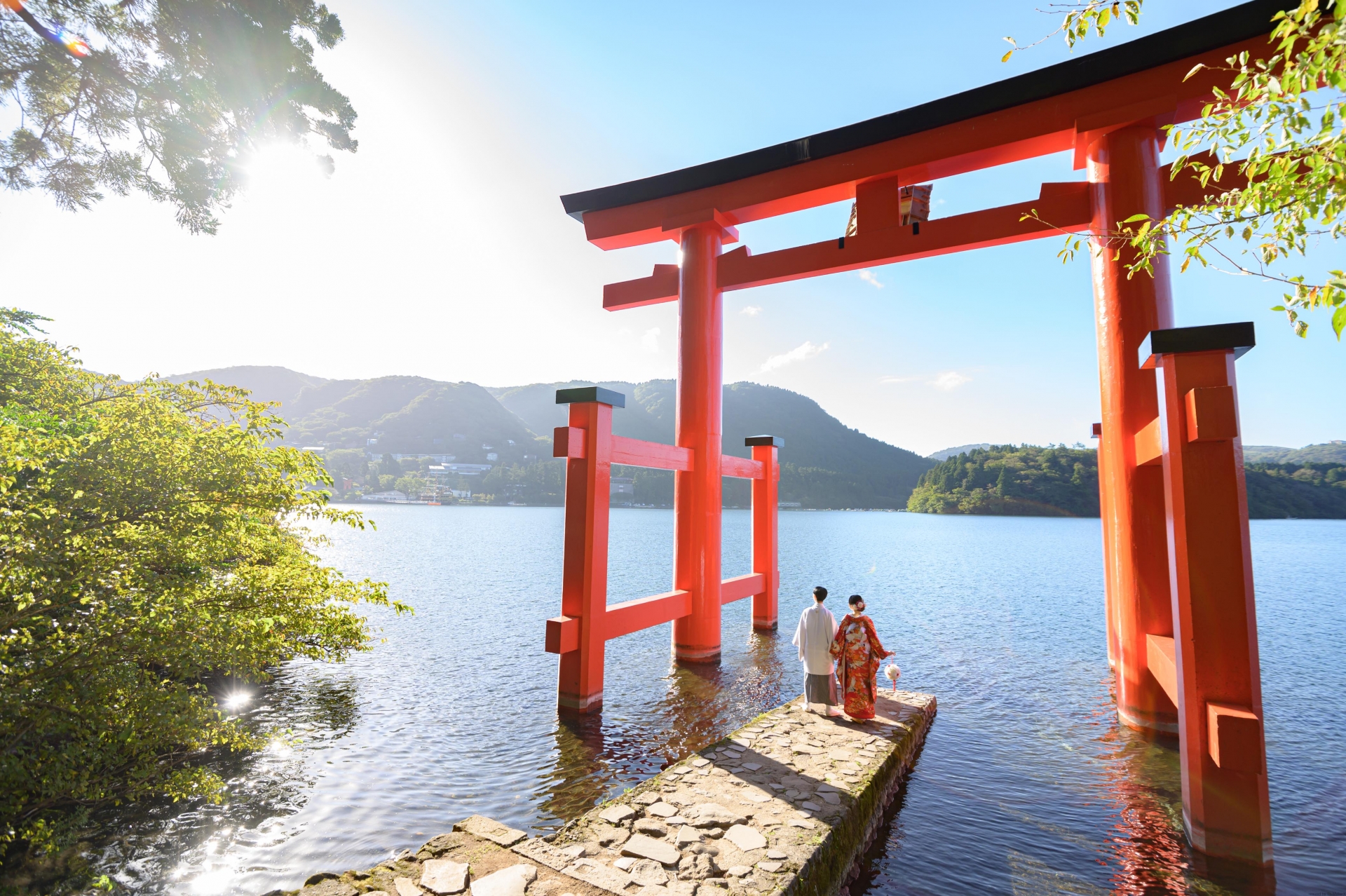 Popular among the various attractions of Hakone is the partially submerged torii gate, known as an "Instagrammable" spot. It is visited every day by many throngs of foreign tourists.
This torii gate on the water was erected in 1952 (Showa year 27), 67 years ago, to commemorate the Treaty of Peace with Japan, along with the reigning Emperor, the Crown Prince, and the sovereignity of Japan. This gate is decorated with a framed tablet that contains the word "peace," but with the tablet positioned to face the lake, it is not often visible from the shores. This framed "peace" tablet was installed in 1964 (Showa year 39), to celebrate the 1,200 years of the enshrinement of the Hakone Ōkami, as well as Japan's hosting of the Olympic Games.
The word "peace" was written by hand with a brush by former Prime Minister Shigeru Yoshida—the individual who had extraordinary powers as ambassador to put his seal on the peace treaty (also signed with a calligraphy brush), and ever since then, this torii gate has been known as the "Gate of Peace."
The view from the Narukawa Art Museum of the Gate of Peace, standing in the waters of Lake Ashinoko, with Mt. Fuji looming behind, is one of the most famous views of scenery one can witness in Hakone. (the word "peace" on the gate can be seen from sightseeing cruise boats in Lake Ashinoko and Hakone.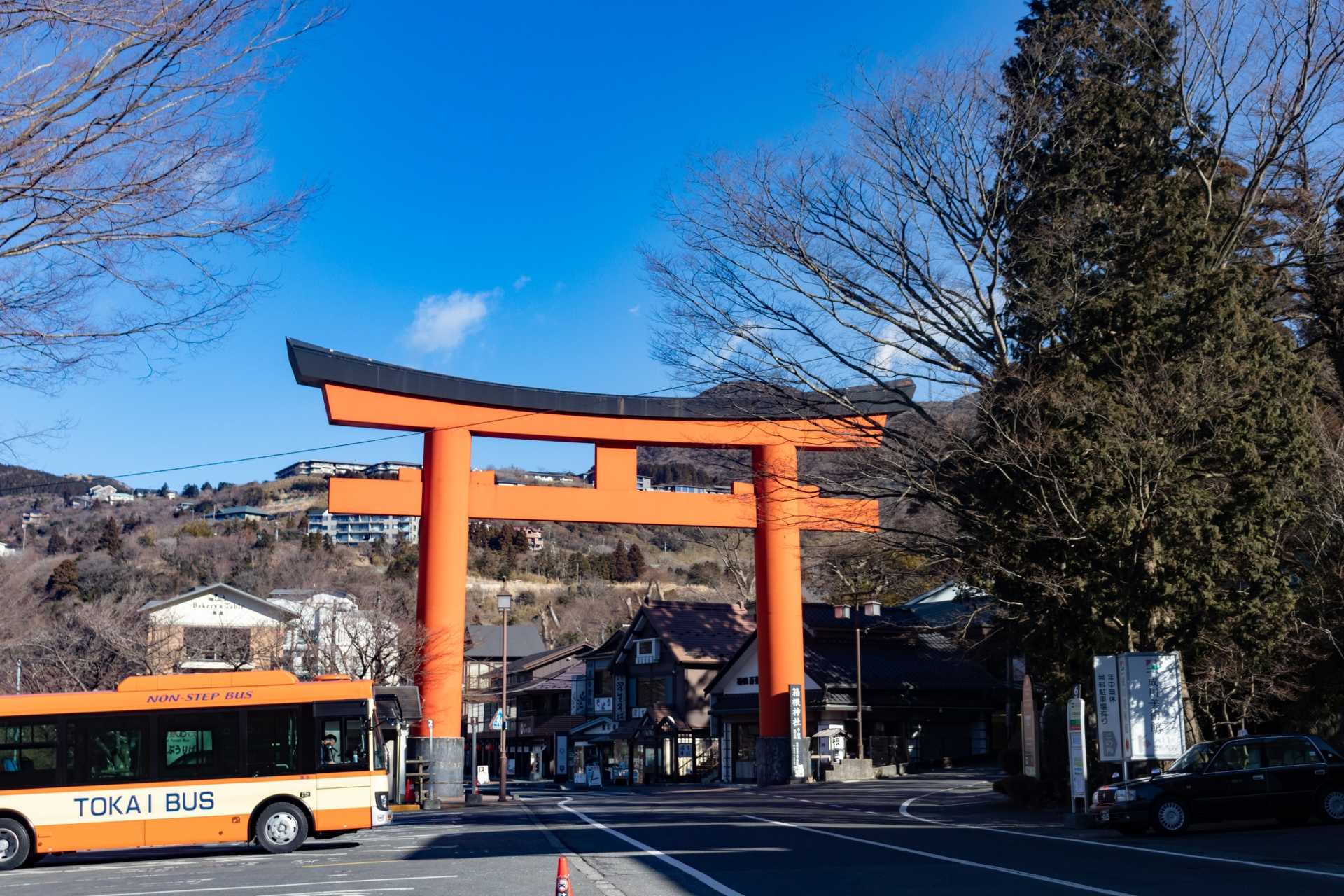 The First Torii gate, which stands at the entrance to Motohakone, was built to celebrate the wedding of the Crown Prince (and now the current reigning Emperor) at the time, and was erected in December of 1993.
Among all of the torii gates which straddle National Route 1, this one is the biggest. It serves as a prominent symbol each year during the running of the annual Hakone Ekiden relay race.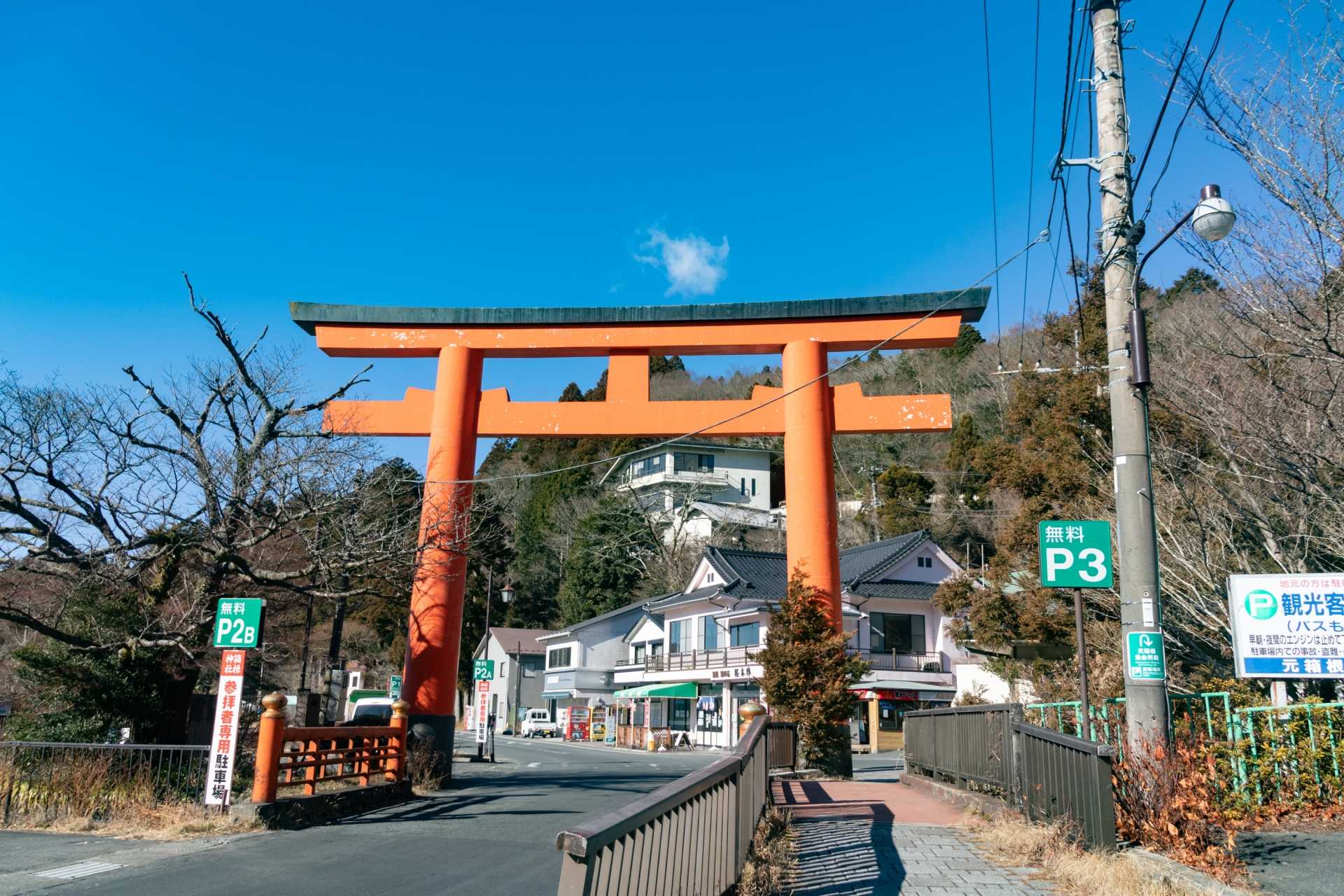 Standing at the end of Monzencho Motohakone is the Second Torii gate. To the side is a parking area prepared for tour buses.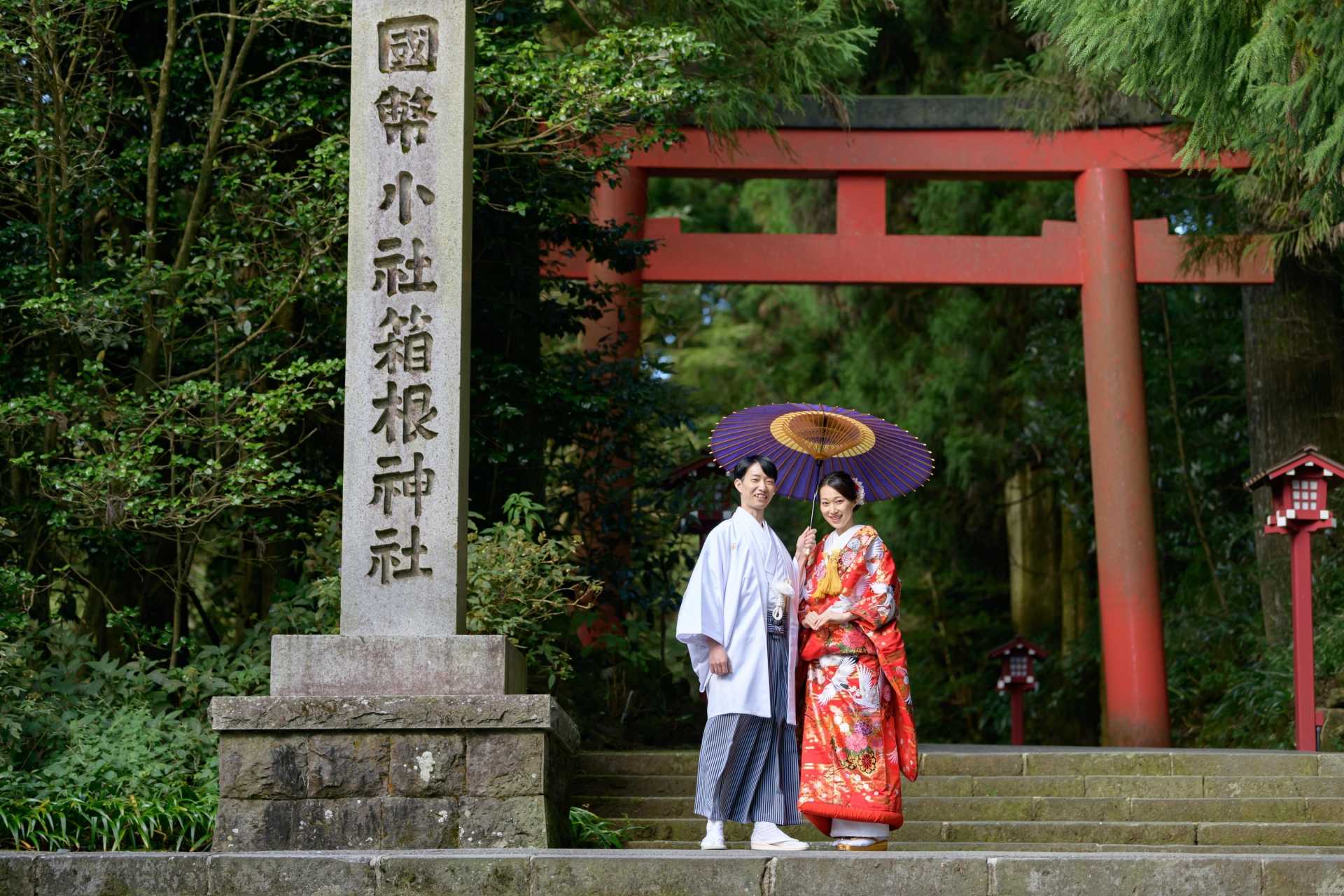 After passing by the stone monument of Hakone Shrine, and then underneath the Third Torii gate, you will have entered the shrine path within the grounds. After climbing the first set of stone steps, you will see a level shrine path stretching into the distance, flanked on both sides by ancient cedar trees.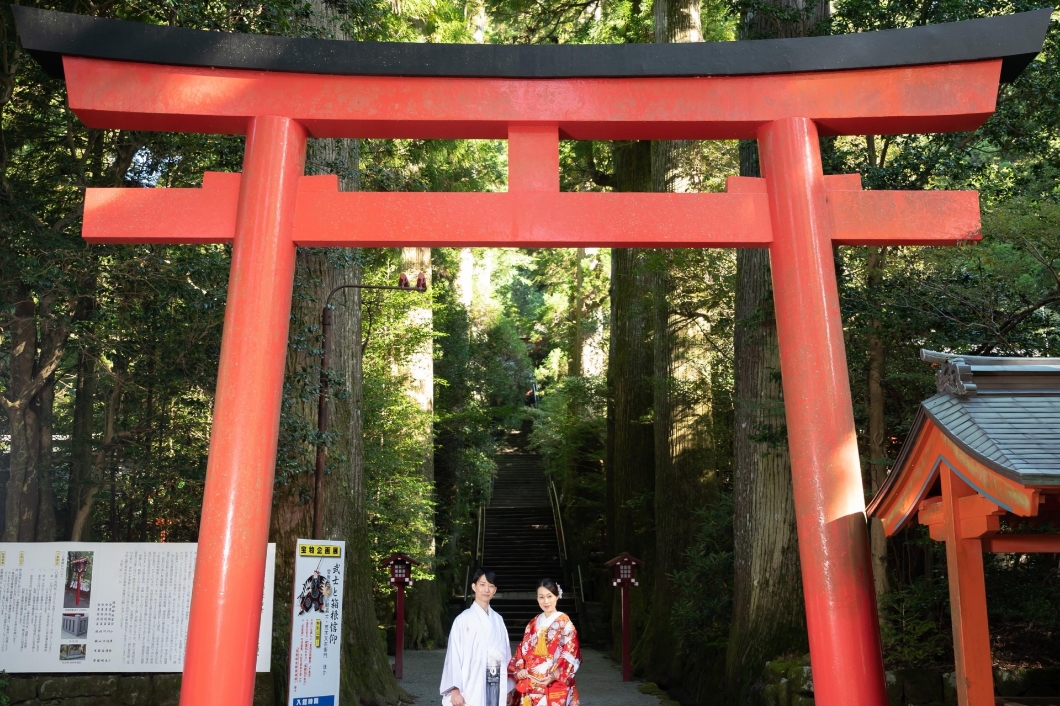 The Fourth Torii gate is located next to the temizuya. Beyond it is the stone stairway with 90 steps, surrounded on all sides by ancient cedar trees. Mid-slope, on the left hand side, is the Soga Shrine.
The Order of the Wedding Ceremony
Wedding Ceremony Order
Goko


(drums)

Shubatsu


(purification ceremony)

Saishu Ippai


(everyone stands, bows once, along with the priest)

Kensen


(food offerings to the gods)

Norito Sojo


(priest will recite Shinto prayers written specifically for the couple)

Fufu Hai


(the couple take ceremonial sips of sake from cups)

Seishi Sojo


(the couple take their vows)

Tamagushi Hairei


(the couple offer a sacred branch to the gods)

Yubiwa Kokan


(the couple exchange rings)

Tamagushi Hairei


(representatives of each family offer a sacred branch to the gods)

Shinzoku Hai


(members of the families take ceremonial sips of sake from cups)

Kagura Hono


(dedication of the sacred dance)

Tessen


(removal of the offerings)

Saishu Ippai


(everyone stands, takes a last bow, along with the priest)

Saishu Aisatsu


(priest's final greetings)

Goko


(drums)

Kinenhin Jyuyo


(presentation of gifts)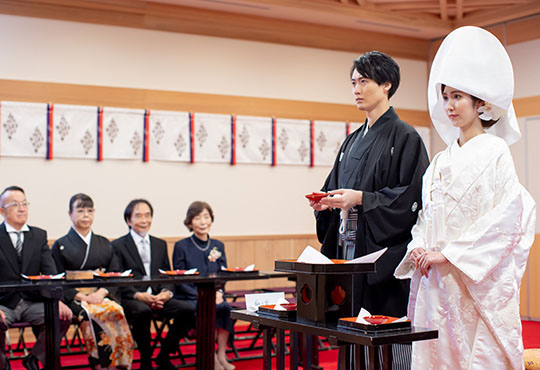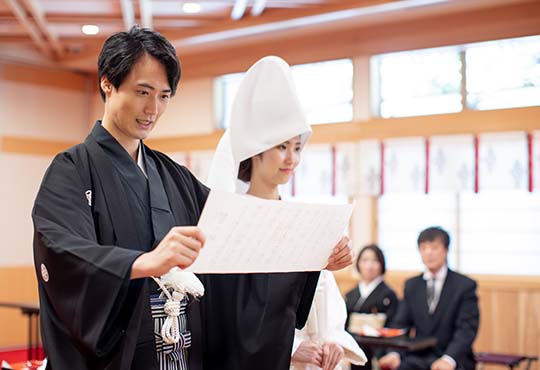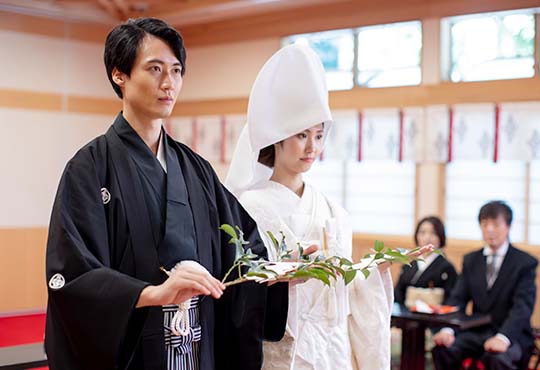 Tamagushi Hairei (performed by the couple)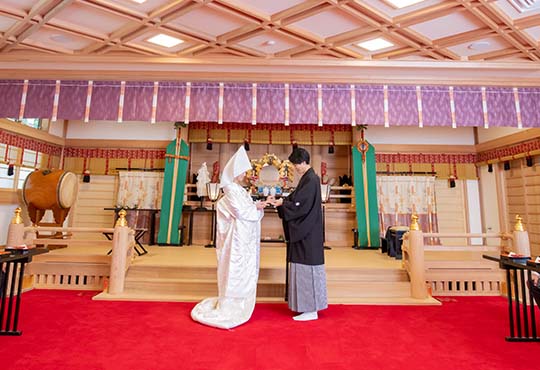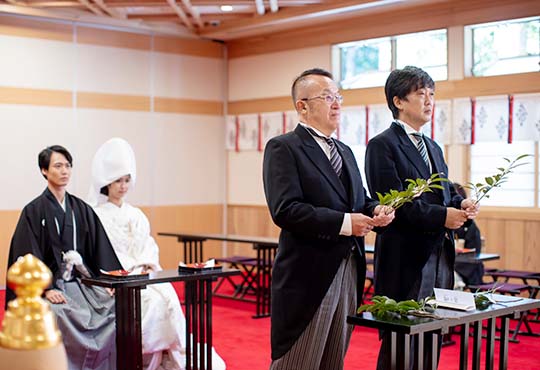 Tamagushi Hairei (performed by representatives of each family)